All-Ceramic Dental Restorations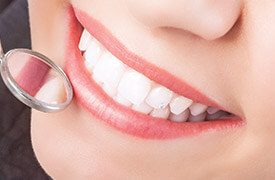 Patients should never have to choose between dental solutions that improve the health of their teeth and those that improve the beauty of their teeth. Instead, all-ceramic restorations from our River Ridge, LA team give you the best of both worlds! These crowns, bridges, inlays, and onlays are designed from the highest quality materials and precisely crafted to match your natural smile, blending in seamlessly alongside natural teeth. Contact us today to schedule your first appointment with Dr. Plaisance or Dr. DeJong. We can't wait to meet you!
All-Ceramic Crowns & Bridges
All-ceramic crowns are practically indistinguishable from their natural counterparts, even reflecting light in the same way. Additionally, they offer increased durability and biocompatibility – even patients who have been allergic in the past to common metals in dental work enjoy them without issue. You won't have to worry about noticeable metal bands forming over time either.
Many patients want a tooth replacement option that's more secure than a denture, but they aren't quite the right candidate for dental implants. In these cases, Dr. DeJong and Dr. Plaisance often recommend an all-ceramic bridge, which offers lifelike quality and confident security.
All-Ceramic Inlays & Onlays
Inlays and onlays are often perfect for patients who have dental needs too great for a filling to treat but aren't ready for a dental crown. Their biocompatible nature complements your original tooth, helping to restore most of its original strength while keeping its structure as intact as possible. The ceramic material is also more comfortable for gum tissue in the long run.