Emergency Dentistry in River Ridge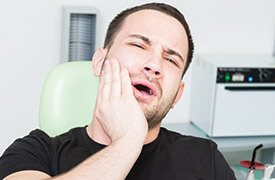 At deJong & Plaisance Family Dentistry, we understand how sudden and frightening emergency situations can be, especially when it comes to something as fragile and vital as oral health. If you or a family member is experiencing severe dental pain or injury, don't wait – contact our River Ridge, LA practice right away to schedule an appointment! We don't want anyone to have to wait for the relief they need, which is why our team strives to see emergency cases as soon as possible.
Common dental emergencies:
Broken/Fractured Tooth
Partially Dislodged Tooth
Fully Dislodged Tooth
Painful Toothache
Object Stuck Between Teeth
Lost Crown/Filling
Soft Tissue Injury
Jaw Injury
Oral Bleeding
Avoiding particularly tough or sticky foods can help patients lessen their risk of experiencing a dental emergency, as can wearing a sportsguard when participating in athletic events. Most importantly, make sure to attend regular check-ups with our staff! We can help you prevent small areas of damage from developing into serious concerns in the future.
Are you experiencing severe oral bleeding that isn't improving with pressure? Is your jaw badly damaged or possibly broken? Please go straight to your nearest emergency room for assistance with these extreme situation. Once you've healed from the trauma, Dr. deJong and Dr. Plaisance provide any needed restorative services. We see patients from Harahan, LA and surrounding areas.