Sedation Dentistry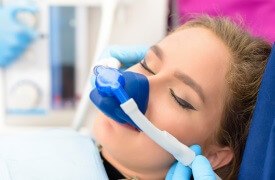 The American Dental Association recommends that everyone visit the dentist for a checkup at least twice each year. This means that you should have seen Dr. Plaisance or Dr. deJong within the last six months. However, if you can't remember the last that you were inside a dentist's office, then perhaps the problem is dental anxiety or fear. Not to worry. We have other patients who would rather not see us and we don't take it personally at all!
In fact, the Dental Organization for Conscious Sedation, an organization of dental professionals that are committed to providing patients with safe and relaxing care, estimates that 30 percent of the adults in the United States don't see the dentist because they are afraid. There are a number of different reasons why people harbor dental anxiety or fear including:
Memory of a traumatic visit to the dentist during childhood
Claustrophobia, which makes some people uncomfortable in the confines of the dentist's examination chair
Sensitivity to the sights and sounds in the dentist's office, such as the sharp metal instruments and the dentist's drill
Sit Back and Relax with Sedation Dentistry
At deJong & Plaisance Family Dentistry, we'll never judge you for not seeing the dentist. We only want to help you overcome your anxiety so you can have the dental care that will ensure the health and beauty of your smile. We do this with sedation dentistry, which involves giving you a mild sedative so you can relax and feel at ease while Dr. deJong or Dr. Plaisance and his team take care of your teeth and gums.
Your sedation dentist in River Ridge uses nitrous oxide, which most people know as laughing gas. Nitrous oxide has a calming effect while it's being administered. Afterwards, the effects wear off immediately so you can resume your normal activities.
Delivering Nitrous Oxide for Sedation
Once you're seated and comfortable in the dentist's examination chair, the dental assistant will place a small plastic mask over your nose. A measured amount of nitrous oxide and oxygen are piped in through the mask. As you breathe normally, the gas enters your system. In a matter of seconds you will feel your body relax and your worries about dentistry will disappear. Sometimes, we can complete more than one necessary dental procedure while you're comfortably sedated.
At the conclusion of your treatment, the mask is removed and the effects of nitrous oxide wear off. With this form of sedation dentistry in River Ridge, you are safe during treatment and perfectly capable of driving back to work or home after your appointment.