Dental Implants – River Ridge, LA
The Closest Match to Your Natural Teeth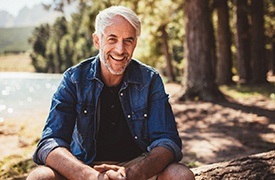 If you are among the 178 million people in the United States who are missing at least one tooth, you have many options these days for completing your smile. However, none of them look or feel nearly as lifelike as dental implants. By recreating the entire structure of the teeth, dental implants are by far the closest match to your natural teeth. At deJong and Plaisance Family Dentistry, our dentists provide start-to-finish dental implant treatment in one convenient location. Contact us today to set up your consultation for dental implants in River Ridge, LA!
Why Choose deJong & Plaisance Family Dentistry for Dental Implants?
Entire Dental Implant Process Completed In-House
Serving the River Ridge Community Since 1980
Flexible Dental Financing Options Available
What Are Dental Implants?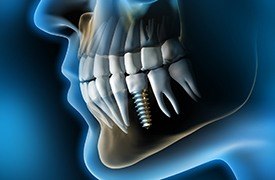 A dental implant is a small, screw-shaped post that is usually made from titanium due to its biocompatible properties. During a minor surgical procedure, the implant is positioned into the jawbone. It naturally bonds with the surrounding bone, allowing it to provide sturdy support for a customized dental crown on top. Multiple implants can also be used to secure a dental bridge or even a full denture in place. In any case, you can count on dental implants to deliver lifelike replacement teeth that stay in place and can last for decades to come!
The 4-Step Dental Implant Process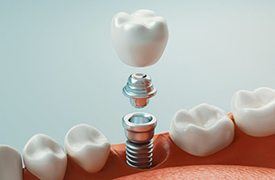 Consultation – First, deJongand Dr. Plaisance will need to verify that you're a good dental implant candidate by conducting initial exams of your mouth and jaw and reviewing your overall health.
Surgery – Our dentists can handle the surgical placement of the implants themselves, saving you from specialist fees.
Osseointegration – After being surgically placed, the implants need time to bond to the natural tissue and bone, creating a solid foundation that will be able to support replacement teeth. This process, called osseointegration, can take up to six months.
Restoration – Once you've successfully healed, you'll return to our practice so that Dr. deJong or Dr. Plaisance can create strong, custom-made prosthetic teeth that sit on top of the implants.
Benefits of Dental Implants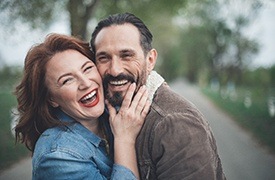 Dental implants offer several exceptional benefits for patients, especially when compared to their more traditional alternatives. These include:
Because they replicate the entire structure of your natural tooth (both crown and root), patients are able to enjoy stronger oral health and reduced chances of jawbone deterioration in the long run.
Dental implants can be treated just like natural teeth – this means that you won't have to make any changes to your diet or oral hygiene routine!
Dental implants are designed to be truly permanent. With the right amount of diligent homecare and professional maintenance from our dedicated doctors and staff, they can last for the rest of your life.
Who Dental Implants Can Help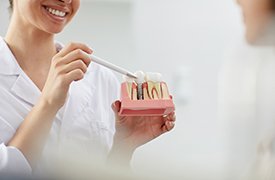 In most cases, as long as you are an adult with healthy gums and adequate bone density in your jaw, you can qualify for dental implants. However, we will need to discuss your medical and lifestyle history to ensure your risk factors for implant failure are minimal. In addition, CT images are taken to confirm whether your jawbone is ready for implant placement. At that point, we can devise a custom treatment plan based around the extent of your tooth loss.
Missing One Tooth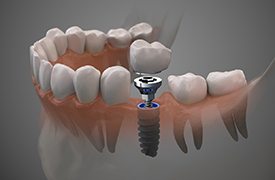 Closing the gap created by a single missing tooth is fairly simple. We vertically insert an implant post into the space and then restore it with a dental crown. This solution doesn't necessitate altering your remaining teeth, making it healthier and less invasive than a traditional dental bridge.
Missing Multiple Teeth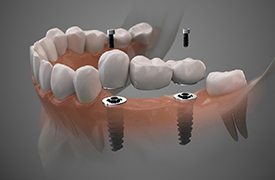 A dental bridge can be placed onto two implants rather than your natural teeth, allowing us to bring back up to four teeth in a row with only two posts. For sporadic gaps throughout the arch, we can attach a partial denture to a small number of expertly positioned implants.
Missing All Teeth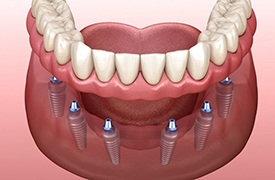 On average, four to eight implants can support a full denture. Compared to conventional dentures, implant dentures allow you to be fully confident while speaking or eating. In the past, patients would have to take their dentures out before enjoying a meal, as chewing could cause their prosthetics to come loose. With implant dentures, that is no longer the case. You can eat and speak with confidence, never worrying about the embarrassment of your false teeth falling out.
Understanding the Cost of Dental Implants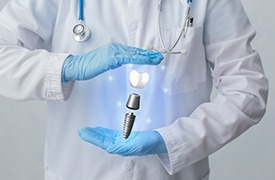 As a major, potentially lifelong treatment, the cost of dental implants is probably a pressing factor on your mind. Since each dental implant treatment is completely personalized for a patient's needs, providing a cost estimate before your consultation is next to impossible. It's worth noting, however, that dental implants may cost more at first than regular dentures and bridges, but you'll be making an investment that can pay for itself many times over in the long run.
Dental Implant FAQs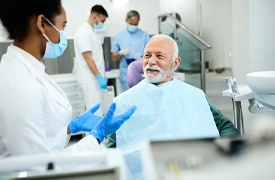 If you suffer from extensive tooth loss, you may be thinking about rebuilding your smile with dental implants in River Ridge. You can review the information above to determine whether this method of tooth replacement is right for you. However, it's completely normal to have a few concerns about the process before committing to it. To help you, our team at deJong & Plaisance Family Dentistry has decided to answer some frequently asked questions from patients.
Are Dental Implants Safe?
For most patients with good health, dental implants are very successful when placed by a qualified professional. If you have low jawbone density or gum disease, your implant dentist in River Ridge can fix these problems to make dental implant surgery safer and more successful. If you have diabetes, cancer, or other medical conditions that could make surgery/healing risky, we can discuss that during your consultation.
How Long Do Dental Implants Last?
Dental implants are one of the most permanent solutions for missing teeth, capable of lasting well over 30 years. Of course, their exact lifespan depends heavily on your oral health and lifestyle. You can help your upgraded smile's durability by brushing twice a day along with daily flossing and rinsing with an ADA-approved mouthwash. Make sure you visit our dental team every six months for a checkup and cleaning as well!
How Long Does Dental Implant Surgery Take?
It depends on how many implants you're receiving at once. Generally, placing a single implant takes 1-2 hours. This includes the time needed to administer anesthesia and dress you for a sterile surgical atmosphere.
Do Dental Implants Feel Natural?
Once they are placed in the jawbone, dental implants will feel exactly like the roots of your original teeth. The implants themselves have no nerve endings. Any sensations that you feel in that area – like heat, cold, or pressure – come from the gums surrounding the implants.
What Can Cause Dental Implants to Fail?
Dental implants usually fail for one of two reasons: peri-implantitis and failed osseointegration. Peri-implantitis is a type of gum disease that develops from poor oral hygiene, damaging the jawbone and soft tissue. Meanwhile, failed osseointegration is exactly as the name implies – when the implant fails to integrate with the jawbone successfully. A few other causes of dental implant failure include chronic teeth grinding, poor oral hygiene, certain medications, and health conditions like diabetes and cancer.
Will I Have to Take Off Work for Dental Implant Surgery?
In most cases, patients typically only need to take a day or two off work to get dental implants. Of course, every case is unique, meaning the exact amount of time you'll need to take off will be based on your specific situation. If you work a physically demanding job, you should ideally take three to four days off. Strenuous exercise could divert blood from the implant site and delay healing.