Tooth-Colored Fillings Transform Your Oral Health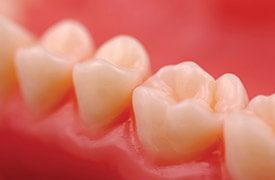 Virtually everyone experiences a cavity at some point in their lives, and in turn, they require a filling to correct the damage and restore the tooth to its original level of health and function. Older patients are surely familiar with traditional amalgam fillings; while effective enough, they came with several pitfalls, and their noticeably silver appearance could ruin an otherwise beautiful, natural smile. Thankfully, Dr. Keith deJong and Dr. Kerry Plaisance offer a much-improved alternative for patients from Laplace, LA and surrounding areas: tooth-colored fillings. Crafted from composite resin, this restorative solution comes with valuable cosmetic benefits that are sure to make patients smile. Contact our practice today to schedule your first appointment!
The Treatment Process
Fillings can be placed in just one appointment at deJong & Plaisance Family Dentistry, and the treatment process is convenient and comfortable. After administering the needed amount of anesthesia, our doctors clean the affected tooth, taking care to preserve as much healthy structure as possible. Once the area is ready, they apply the composite resin and sculpt it precisely into place for a natural appearance. Finally, a special light will harden it in place. That's all there is to it!
Tooth-colored fillings offer patients several benefits, especially when compared to amalgam alternatives. These include:
Composite resin offers greater flexibility in the treatment process allowing our team to preserve more of your natural tooth and treat minor cracks and fractures that don't contain any decay.
Traditional fillings have the tendency to expand and contract uncomfortably when exposed to temperature changes. Patients won't experience this problem with tooth-colored fillings.
With the right level of care, tooth-colored fillings can last 15 years or longer.