Dentures – River Ridge, LA
Helping Patients Replace All of Their Missing Teeth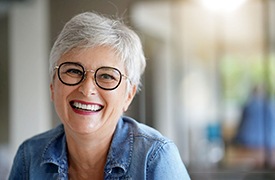 Are you missing multiple teeth or a full arch of teeth in your upper or lower jaw? Dentures can be a reliable restorative solution for filling in all the space in your mouth, allowing you to eat, speak, and smile with full confidence again. You need a complete grin to enjoy life to the fullest, so don't lose any time when teeth are missing; reach out to deJong & Plaisance Family Dentistry to schedule a consultation and see whether dentures are the right choice for you.
Why Choose deJong & Plaisance Family Dentistry for Dentures?
Sturdy, Long-Lasting Materials
Dental Implants Placed In-House
Convenient, Flexible Financing Options
Who Is a Good Candidate for Dentures?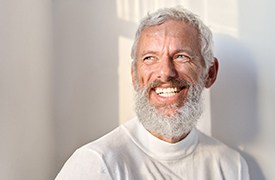 Dentures are normally recommended when you have lost several, most, or all of the teeth in your upper or lower arch. Of course, there are other possible solutions for tooth loss, so before you commit to getting dentures, we'll examine your mouth and review your options with you. We'll also identify any dental concerns such as tooth decay or gum disease that will need to be addressed before we begin the process of replacing your teeth.
Types of Dentures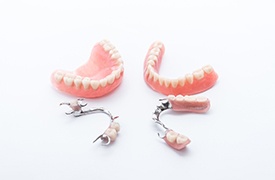 There are three main kinds of dentures: partial dentures, full dentures, and implant dentures. We'll consider your unique needs carefully before we recommend the type of denture that's right for you.
Partial Dentures
When at least one healthy natural tooth is present in the jawline, a partial denture fits in the space like a missing puzzle piece. It is retained with clasps or brackets, but it can be taken out of the mouth at any time.
Full Dentures
A full, or complete, denture is a prosthetic device that replaces all the missing teeth in the top or bottom of the mouth. It sits on the gums and is typically held in place with natural suction, although you can give it additional security and stability with denture adhesive. Like partial dentures, full dentures are designed to be removable.
Implant Dentures
A dental implant is a small titanium cylinder that is surgically placed in your jawbone. A denture can be attached to four to six dental implant posts. Since the implants act as new tooth roots, your dentures will stay in place at all times, and they'll have enough strength and stability to handle most foods. Since your new teeth will be permanently anchored to your mouth, you'll be able to brush and floss them as if they were natural teeth.
The Benefits of Dentures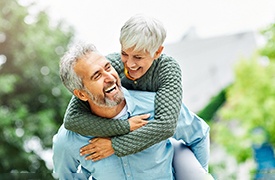 Why do dentures continue to be such a popular solution for people who are missing multiple teeth? The answer lies in the many benefits they provide, such as:
Allowing you to chew a wide variety of foods without pain again.
Being a cost-effective way to replace multiple teeth simultaneously.
Improving your ability to speak clearly.
Having a lifespan of 10 years or more with the right maintenance.
Being very easy to clean.