ClearCorrect
Creating Beautiful Smiles in River Ridge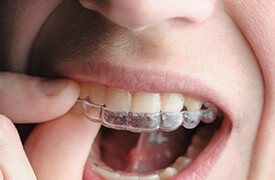 If you've worked hard to build a mature, professional image, the thought of relying on traditional braces might be enough to scare you away from your dream of a straighter, more beautiful smile. There's more than one way for you to reach your goal. Traditional braces are one way, and then there's a clear alternative like ClearCorrect. With ClearCorrect, our River Ridge patients enjoy treatment that's more comfortable and convenient as they work their way towards a better smile. Patients from all over The West Bank and beyond are encouraged to contact us today and schedule a first appointment for you or a loved one!
How Does ClearCorrect Work?
ClearCorrect doesn't rely on metal brackets and wires to move teeth. Instead, it uses a series of clear, custom-molded aligners to get the job done. What's more, instead of coming to our River Ridge office for adjustments, you'll actually move through a series of aligners as your treatment progresses, with each one bringing you closer and closer to your smile's ideal alignment.
Your treatment begins with a visit to Dr. Kerry and Dr. deJong's River Ridge dental office. During your visit, your doctor will talk to you about treatment and will create a detailed treatment plan using 3D models of your smile. Then, once your treatment plan has been put together, a ClearCorrect lab will create your aligners based on that plan.
The Benefits of ClearCorrect
Aside from providing patients with a more comfortable and convenient solution for straightening teeth, ClearCorrect braces are also removable. That means they can be taken out for meals and to brush and floss. As a result, you keep your teeth cleaner as you work toward your goal of a more beautiful smile. With traditional braces, food can become trapped around the brackets and wires creating the potential for tooth decay and gum disease. With ClearCorrect, your smile can stay healthier as your treatment progresses.