Find General & Preventive Dental Care in River Ridge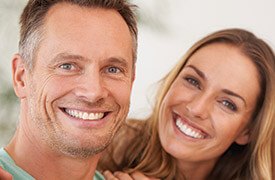 As your full-service family dentist, we cater to the oral health needs of both you and your family. We know how important family is, and we know how inconvenient it can be to have to shuffle your family around to different dentists of different specialties. That is why we provide general dental care for everyone saving you much-needed time in your busy schedule.
For your entire family, we are here to help. We know how important it is to keep your family's smiles bright and shining, which is why we provide general dentistry care including checkups and hygiene services for the kids, as well as the parents. As important as maintaining the health of your children's teeth is, it is equally important not to neglect your own teeth. A simple checkup from Dr. deJong or Dr. Plaisance today can let you remain confident about your overall oral health and the strength of your smile. And if any problems are noticed, we plot a course of action to correct them immediately, truly earning us our record as a full-service family dentist.
We know it can be hard to find one general dentist to cater to all the dental care needs of your family. That is why we are here to answer the call. With our vast experience in the industry and record of perfect patient care, you know who to trust in the area. Contact our River Ridge, LA practice today to schedule your first appointment!
Our available general services include:
Dental Check-ups & Teeth Cleanings
One of the most important steps patients take to maintain oral health and happiness is attending routine dental check-ups with a trusted team like ours. Our goal during these visits is a simple and important one – we want to fully understand your smile's needs so we can address them quickly and effectively. One of our doctors will perform an in-depth visual examination, thoroughly reviewing each of your teeth, gums, bite, existing restorations, and more with the assistance of digital X-rays. Once we have all of the information we need, we work with you to develop the ideal treatment plan.
Routine cleanings are also vital because they combat one of the biggest dangers to your healthy smile – plaque. Plaque is a sticky, bacteria-filled substance that's constantly forming in the mouth threatening decay and forming hard deposits known as tartar. One of our talented hygienists can clear away all of this leaving your mouth feeling refreshed and polished.
Digital X-Rays
Digital technology has transformed the X-ray process here deJong & Plaisance Family Dentistry, making it much safer and more convenient for our valued patients. Instead of having to rely on darkrooms and hazardous chemicals, our team members capture detailed images of your unique smile in just a few seconds, transferring them to our computer system for easy viewing. Everything is handled electronically, which means there's less waste and easier access for insurance companies and outside specialists. Best of all, radiation exposure is reduced significantly.
Nightguards
If you suffer from constant headaches or teeth that are worn down or damaged for no understandable reason, you may be suffering from bruxism, a common, often stress-related condition that's more commonly known as teeth grinding/clenching. If we determine this is the case during your routine check-up, Dr. deJong and Dr. Plaisance provide you with much-needed relief in the form of a customized nightguard. The appliance minimizes the harmful effects of grinding while patients rest easy.
Sportsguards
Do you or a loved one participate in an athletic event that involves contact with other people, projectiles, or hard surfaces? In addition to wearing helmets and pads, it's also important to protect your vulnerable smile with a sportsguard. Our staff can provide a personalized appliance that's leaps and bounds ahead of the one-size-fits-all models you find at the store, allowing for plenty of jaw movement and comfort. Studies suggest that wearing a sportsguard can reduce the severity of concussions!