Teeth Whitening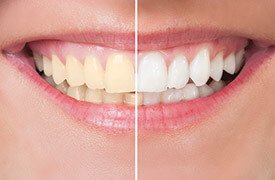 Everyone wants their smile to be that stunning shade of white they see in magazines and on billboards. Yet we all know that often times those smiles are unrealistic, especially with the everyday wear and tear we put our teeth through. Add in such outside additives like red wine, cigarette smoking, and that daily cup of coffee, and your teeth can take a turn for the worse. With at-home teeth whitening services, however, a bright, white smile can be well within your reach.
Teeth whitening can quickly restore your smile to its one-time whiteness, even brightening your smile shades whiter than it has ever been. Our custom kits allow patients to improve their look on their own schedule and in the comfort of their own home. As full-service family dentists for both cosmetic and restorative dentistry, we aim to provide you the most efficient services in the most supportive atmosphere possible. With deJong and Plaisance Family Dentistry on your side, teeth whitening has never been easier.
Come experience our friendly office and improve your oral health today. Call our River Ridge dental practice. We also care for patients from Harahan, Metairie, Kenner, River Ridge, St. Rose, Destrehan, Laplace, the west bank, and surrounding areas.
Teeth Whitening FAQs
If you're ready to invest in a brighter smile, it's normal to have a few concerns about teeth whitening in River Ridge. There's a lot of misinformation about the procedures, so it's natural to have some apprehensions, but there isn't any reason to worry. Here are the answers to a few frequently asked questions to ease your nerves.
Does teeth whitening hurt?
Whitening treatments have evolved quite a bit over the years. Whitening gels are specially formulated to minimize any discomfort. Not to mention, your cosmetic dentist in River Ridge can customize the gel to cater to your specific needs. If you're prone to tooth sensitivity, they can use less of the agent to prevent discomfort. If you experience any sensitivity, it typically dissipates in a day or two. You can lessen sensitivity by spacing-out treatments, avoiding cold or hot beverages, and using a desensitizing toothpaste.
Am I a candidate for teeth whitening?
Although teeth whitening is safe and effective, it's not right for everyone. Modern whitening systems can get your teeth up to 8 shades whiter, but they may not be effective for certain stains, like those originating from within the tooth. Your teeth and gums must also be free of decay and infection. The only way to determine if teeth whitening is right for you is after a consultation with your cosmetic dentist. They will examine your mouth to look for any oral health concerns and determine the cause of your stains. Based on the results, you may need a little prep-work, like a filling or periodontal therapy. If a whitening treatment can't provide the improvement you want, your dentist will discuss alternative options to reach your goals, like porcelain veneers.
Does teeth whitening damage enamel?
It's a common misconception that teeth whitening damages the enamel; however, when used on the ideal candidate and by a trained professional, your smile isn't at risk. While the whitening treatment won't harm your teeth, combining certain home remedies, like charcoal toothpaste, can ruin your enamel. Overusing whitening products can also have a long-term effect on your teeth. Over time, they can wear away your enamel. Since your enamel can't regenerate, your teeth can be compromised permanently. It's best to have a consultation with a cosmetic dentist before any whitening treatments, including home products and remedies. It's crucial any in-office or at-home products are used correctly to safeguard your enamel. With a few precautions, you can achieve the bright, beautiful smile you desire without harming your teeth.
Is teeth whitening permanent?
Unfortunately, teeth whitening isn't permanent. Your results can last for several months to multiple years, depending on your aftercare routine, like committing to your oral hygiene. Your cosmetic dentist will recommend avoiding anything that might cause new stains, like smoking, drinking a lot of coffee, or eating dark berries frequently. Maintain your semi-annual appointments for a cleaning and checkup to preserve your results. Besides keeping your teeth clean and healthy, they can also provide you with a touch-up kit.