Teeth Whitening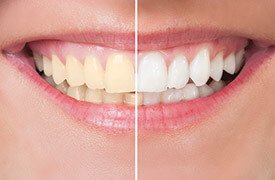 Everyone wants their smile to be that stunning shade of white they see in magazines and on billboards. Yet we all know that often times those smiles are unrealistic, especially with the everyday wear and tear we put our teeth through. Add in such outside additives like red wine, cigarette smoking, and that daily cup of coffee, and your teeth can take a turn for the worse. With at-home teeth whitening services, however, a bright, white smile can be well within your reach.
Teeth whitening can quickly restore your smile to its one-time whiteness, even brightening your smile shades whiter than it has ever been. Our custom kits allow patients to improve their look on their own schedule and in the comfort of their own home. As full-service family dentists for both cosmetic and restorative dentistry, we aim to provide you the most efficient services in the most supportive atmosphere possible. With deJong and Plaisance Family Dentistry on your side, teeth whitening has never been easier.
Come experience our friendly office and improve your oral health today. Call our River Ridge dental practice. We also care for patients from Harahan, Metairie, Kenner, River Ridge, St. Rose, Destrehan, Laplace, the west bank, and surrounding areas.