Root Canal Therapy from deJong & Plaisance Family Dentistry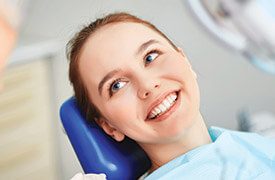 If you have been experiencing pain or discomfort emanating from your tooth, root canal therapy may be necessary. The term "root canal" may cause anxiety for patients, yet rest assured with the gentle hands of Dr. deJong and Dr. Plaisance, there is no need for trepidation. Our trained and knowledgeable staff walk you through every step of the process, making sure you are fully informed of what to expect before any treatment begins.
Root canal therapy is the process of removing the damaged tooth nerve, rather than removing the entire tooth itself. The nerve is then replaced with a manmade material to avoid the possibility of infection, and the tooth is sealed with a crown. Our professional staff will make sure you are completely comfortable during this procedure, and you will get back that glowing smile in no time. When it comes to your teeth, deJong and Plaisance Family Dentistry is your go-to dental practice for all your dental care needs, including restorative, cosmetic, and children's dentistry.