Dental Crown & Bridge Treatment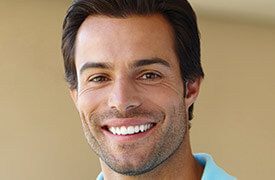 When a tooth has become significantly damaged or lost, it's necessary to rebuild the lost structure with a custom restoration. Crown and bridge care can restore the health, function, and aesthetic beauty you're missing at our River Ridge location. Dr. Kerry Plaisance, Dr. Keith deJong, and the rest of our team believe in providing kind, genuine care that creates the long-lasting results you deserve, and we're always happy to explain your treatment options with as much detail as you need. Patients from Metairie, LA and beyond are welcome to contact us today and schedule appointments for the whole family!
Dental Crowns
Dental crowns are designed to fit over a single natural tooth, completely covering the visible structure with a stronger, more durable replacement that looks and functions like the real thing. There are a wide variety of reasons why our team might recommend a new crown including:
Severe tooth decay that can't be treated with a filling
A significant structural injury to a tooth
A weakened tooth has an increased risk of fracture
A tooth is suffering from cosmetic flaws, such as misshapenness
A missing tooth has been replaced by a dental implant and is in need of restoration
A tooth treated with root canal therapy is in need of restoration
Dental crowns typically require two to three appointments to create and place successfully at our practice. After our team has determined that this restorative option is right for your smile, we prepare the tooth in question, take detailed impressions, and fit you for a temporary crown so any disruption to your everyday life in the interim is minimized. Then, once we've received the finished product from the dental lab, we invite you back to make any last-minute adjustments and securely cement it in place. Dr. deJong and Dr. Plaisance's goal is to exceed your expectations with the caliber of their work.
Dental Bridges
Crowns are also a vital component of dental bridges, which are used to restore one or more missing teeth in a row. Many patients prefer bridges because they provide a sturdier, more permanent solution to tooth loss than traditional dentures; however, healthy teeth on either side of the gap are required. The dental crowns are designed to fit over these teeth as "anchors," holding the custom prosthetic in place. Like traditional crowns and bridges take two to three appointments to complete, in most cases.