Single Tooth Dental Implants in River Ridge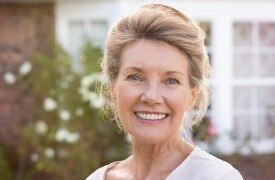 If you are among the 178 million people in the United States missing at least one tooth, you can permanently replace your lost tooth with single unit dental implants in River Ridge. At deJong & Plaisance Family Dentistry, we offer dental implants to regain a complete smile. When compared to other options to replace a lost tooth, dental implants provide the most benefits with a lifelong solution.
Benefit from Permanent Tooth Replacement
Dental implants are different than other options to replace a lost tooth because it is permanent. The root and the crown of the tooth are replaced to give you the only tooth replacement option that most closely mimics the appearance and function of a natural tooth.
A dental implant is composed of three parts: implant post, abutment, and dental crown. The implant post is made from titanium, so it is biocompatible. Using a surgical procedure, the post is implanted into the jawbone to replace the tooth root. The jawbone naturally fuses to the implant post, creating a secure foundation for the replacement tooth. In addition, the post helps to stop bone loss to protect your remaining natural teeth.
After your jawbone has fused to the implant post, a second procedure is needed to attach the abutment. The gum tissue is opened to expose the implant post. Then, the abutment is attached. This allows your gum tissue to heal correctly while also being needed to anchor the replacement crown to the post.
A couple of weeks after the abutment is placed, a custom-made restoration is attached. You will have a natural-looking solution to regain a complete smile. With the right care, your new tooth will last a lifetime.
Choose a Lifelong Solution
If you are ready to say good-bye to an incomplete smile, you need to schedule a consultation with deJong & Plaisance Family Dentistry to see if dental implants in River Ridge are right for you. In most cases, as long as you have healthy gums and adequate bone density, you can get a dental implant. However, we will need to discuss your medical and lifestyle history to ensure your risk factors for implant failure are minimal. In addition, CT images are taken to access your jawbone for implant placement.
After determining that you are a candidate for a dental implant, a comprehensive treatment plan is created. Dr. deJong and Dr. Plaisance will refer you to a highly reputable specialist for the placement of your dental implant and abutment. Once you have fully healed, you will return to our office for the restoration process. We will create a custom-made, all-ceramic dental crown to complete your smile.
Your Dentist for Dental Implants
Now, you can replace a missing tooth without having to change adjacent teeth. You will make an investment in your oral health and quality of life with the only option that is the closest thing to a natural tooth.
Get a complete smile today. Schedule your consultation with Dr. deJong and Dr. Plaisance for a single until dental implant.