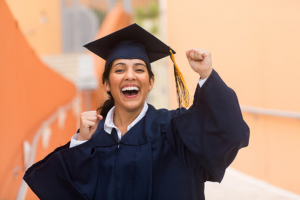 Summertime is just around the corner, and if your kid's about to graduate from high school or wrap up their college degree, you've probably got a lot on your mind as you try to get them ready for their grand stroll across the stage! But have you thought about taking them to see their cosmetic dentist to ensure that their pearly whites look and feel their best for their big moment? Here's why you shouldn't hesitate to help your future grad enhance their pearly whites, along with some possible treatment options to consider.
The Significance of Having a Beautiful Smile
You've probably heard that your smile is the first feature people notice about you—so needless to say, if your kid's smile looks good during and beyond graduation, they're going to be set up for positive first impressions and expanded opportunities moving forward.
While it's often not necessarily a job requirement to have a healthy and beautiful smile, there's something to be said about working with or around somebody with a captivating grin. Having an attractive smile will pay huge dividends in certain professions. For example, lawyers arguing cases, teachers educating students, repairmen making repairs, and businesspeople making deals all greatly benefit from having a positive outward appearance and seeming approachable and capable. Generally speaking, the confidence inspired by having a good-looking smile can translate into success across varying fields and professions.
Common Cosmetic Treatment Options
These days, cosmetic dentistry includes a wide range of treatments that can tackle an even wider range of aesthetic issues! Here are a few examples of some common options and what they're capable of doing:
Teeth whitening – Capable of noticeably whitening teeth by several shades, this treatment is among the most accessible and most affordable cosmetic treatment options, with results lasting a few months to a couple of years.
Veneers – These are perhaps the most comprehensive option of all cosmetic treatments, capable of addressing chips, cracks, gaps between teeth, minor staining, and more. They can last for several years under ideal circumstances.
Dental bonding – Often considered a quick and easy fix, your dentist can use a special type of composite resin to mask visible issues in teeth and have them looking and feeling normal once more.
Clear aligners – For crooked or misaligned teeth, these plastic trays are capable of subtly realigning teeth without the discomfort or hassle of traditional braces—and better yet, they're practically undetectable when being worn, which is perfect for photo ops!
Your smile is something that'll contribute to your health, success, and overall level of happiness long after you graduate from school—so spending a little time, money, and effort on your loved one's pearly whites will ensure that no matter the places they go, they're carrying a bright smile with them that will expand their opportunities and ensure their contentment!
About the Author
A New Orleans native, Dr. Kerry Plaisance, Jr. received his DDS from the Louisiana State University School of Dentistry and has proudly served patients and families in the River Ridge, LA community for several years. His practice offers a wide range of preventive, restorative, and cosmetic treatments that are certain to help you and your loved ones achieve brighter and healthier smiles! If you have any questions about the article or you'd like to schedule a visit, feel free to contact Dr. Plaisance, Jr. through his website or by telephone: (504) 738-5171.