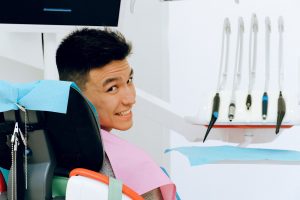 The American Dental Association recommends a cleaning and checkup every 6 months for optimal oral health. Your dentist will check your teeth and gums to detect anything concerning; however, they will also ask about your medical history. Your oral and general health are closely connected. Your dentist can learn a lot about your oral health risks based on medical conditions, medications, and certain symptoms. Here are 6 things you should never forget to mention to your dentist during a checkup. 
1. New Medications or Supplements
If you're taking any new medications or supplements regularly, your dentist needs to know about them. Some may have a dry mouth as a side effect, which can increase your risk of cavities, gum disease, thrush, and chronic bad breath.
2. High Blood Pressure
Your heart health can be affected by your dental health. Gum disease can raise your blood pressure, and it can also make medication used to treat hypertension less effective. Your dentist can create a personalized treatment plan to support your gum health and keep your heart healthy.
3. Diabetes
Uncontrolled diabetes can wreak havoc on your general and oral health. Diabetics have an increased risk of advanced periodontitis. Diabetes can also make it more difficult to treat the infection. Your dentist may recommend more frequent cleanings and checkups, in addition to managing your diabetes.
4. Digestive Issues
Your gut health can affect your smile. Acid reflux can erode your enamel over time. Bad oral bacteria can also enter your digestive tract, which can affect the gut. Poor dental health can also make it difficult to eat certain foods. Eliminating them from your diet can lead to nutritional deficiencies. If you're having digestive health issues, be sure to let your dentist know.
5. Jaw Pain
Jaw pain can make it difficult to bite and chew. Inflammation in the temporomandibular joint (TMJ) can affect its function. Your jaw can lock in an opened or closed position, or grind and click when opening and closing your mouth. Jaw pain is often a sign of a TMJ disorder, which can be caused by many factors, like a bad bite.
6. Recurring Headaches
Headaches can be a sign of dental issues, like a TMJ disorder. It can also be connected to bruxism, which is a subconscious habit of grinding and clenching your teeth. Besides TMJ therapy, your dentist may also recommend other treatments, like stress-relieving exercises or a nightguard. Reducing stress on the joints can stop your headaches.
Never hesitate to give your dentist new information about your health or lifestyle. Keeping your file updated will ensure your dentist can provide the best care possible for a healthy smile that will last for a lifetime.
About Dr. Kerry T. Plaisance
Dr. Plaisance earned his dental degree from Louisiana State University. He has regularly continued his education in advanced specialties. He focuses on prevention to preserve each patient's smile. If it's time for your next cleaning and checkup, request an appointment through our website or call (504) 264-6566.