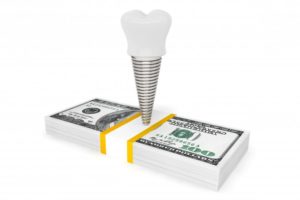 More than 120 million Americans are missing at least one tooth. So, if you've lost one, several, or even a whole mouthful of teeth, you're far from the only one. These days, you have plenty of options to choose from in terms of rebuilding your smile. But which one is the best? While dental implants might have the highest initial cost, they can actually save you more money in the long run. Here are some things to keep in mind when considering the dental implant cost near Metairie.
The Hidden Costs of Traditional Tooth Replacements
When comparing the prices up front, dental implants are often the priciest option. Many patients who could benefit from them pick another treatment simply because they want to avoid high costs. However, while conventional options like dentures and dental bridges may cost less at first, they come with some hidden expenses that can quickly accumulate. Take a moment to consider the not-so-obvious costs of:
Getting your denture or bridge replaced every 5 to 15 years
Frequently visiting your dentist for adjustments
Purchasing special cleaning solutions, adhesives, etc.
Oral health concerns, such as jawbone atrophy due to lack of stimulation
Social consequences, like your teeth slipping out of place when talking or eating
Fortunately, dental implants can prevent all of these little expenses from building up and costing you more down the road.
How Dental Implants Can Save You Money in the Long Run
Dental implants boast a success rate of an astonishing 95%. The reason they're so effective is their surgical placement directly in your jaw. Once they're inserted, they promote new bone growth, preventing your jawbone from shrinking and your facial muscles from collapsing. Plus, the implants forge a powerful bond with the jawbone, allowing them to last for decades with proper care and maintenance. Their incredible lifespan, unmatched durability, and remarkable success rate can net you significant long-term savings!
Other Reasons to Get Dental Implants
In addition to their financial benefits, dental implants can offer several advantages over conventional tooth replacement options. They are also:
Immune to cavities
Personalized to mimic the size, shape, and color of your natural teeth
Stable enough to let you chew practically any food
Able to support themselves without placing stress on surrounding teeth
Easy to take care of as long as you regularly brush, floss, and visit your dentist
If your missing teeth have been taking a toll on your ability to eat, speak, or smile with confidence, it might be time to consider filling the gaps with dental implants. Talk to your dentist about how you can enjoy a full, beautiful smile that can benefit your oral health as well as your bank account!
About the Author
Dr. W. Keith deJong earned his Doctor of Dental Surgery degree in 1980 from the Louisiana State University School of Dentistry. Together with Dr. Kerry Plaisance, he has helped countless patients in the River Ridge, LA community restore their smiles after tooth loss. They refer patients to local specialists for implant placement and then complete smiles with a custom-made crown, bridge, or denture. To learn more about the dental implant cost near Metairie, contact their office at (504) 738-5171.