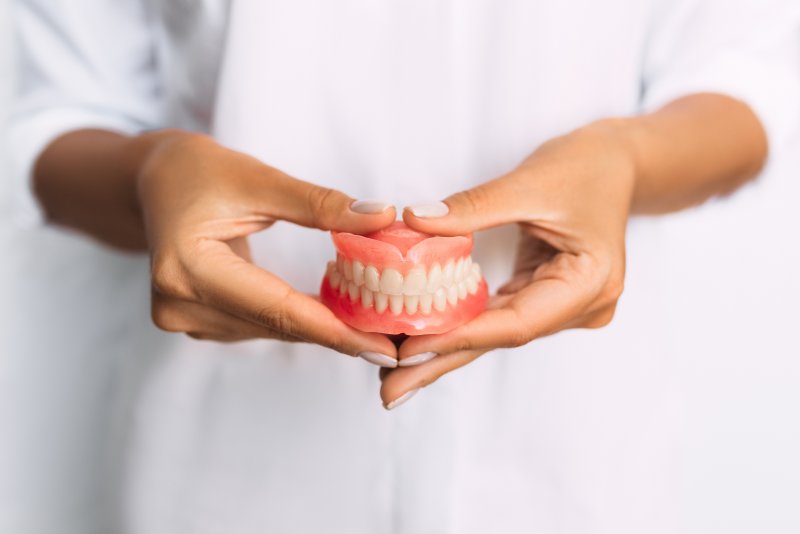 In a perfect world, you could get dentures in River Ridge right this minute. You wouldn't need to wait on anyone or anything to receive the appliance. However, the reality is that dentists need time to make and place these replacement teeth. Otherwise, there's a good chance the dentures wouldn't work well. As for how long it takes to get them, your local practice can give you an idea of the treatment time. Here's a summary of the three major steps involved in getting dentures.
Step 1: Impressions & Measurements
Unless the patient needs teeth pulled, an oral exam is the first step to getting dentures. More specifically, it's a process where a dentist makes an impression of your ridges and measures your bite. It also includes a wax mockup of artificial teeth to ensure the dentures will fit correctly.
These items — the impression, measurements, and mockup — are used by a dental lab to make the final dentures. This manufacturing stage can take some time (usually 3 or 4 visits spread over several weeks). Still, your dentist will have you do prep work in the meantime.
Step 2: Adjustment Visits
While the lab makes your permanent dentures, you'll wear temporary ones. As you do so, your dentist will have them adjusted over several dental visits.
You see, these mockups serve a crucial purpose — they give the dentist a sense of how the complete dentures should work. With each alteration, the changes are also applied to your future prosthetics. If this step didn't occur, you'd likely get artificial teeth that are too big, too long, too short, or too narrow.
Since the adjustment step can take a while, a patient may need "immediate dentures" so they don't go without teeth for an extended period. These differ from the temporary mockups, as they function more reliably and aren't made of wax.
Step #3: Final Placement
After finishing the prior adjustments, the dentist will go ahead and place the complete dentures. That said, these final ones may need later adjusting of their own — it's not uncommon to develop sores soon after getting them.
Of course, you'll have a chance to experience dentures' benefits at this point. Namely, you'll see how they restore your smile, help you eat and speak, and more! If you have any concerns, though, you can always return to your dentist's office for follow-up appointments.
As you can see, getting dentures in River Ridge requires waiting a bit. Once you get through the steps above, however, you're free to use and enjoy your new teeth!
About the Author
Dr. Kerry T. Plaisance, Jr. is a dentist based in River Ridge, LA, having earned his DDS from Louisiana State University. He's also a member of the Academy of General Dentistry with a strong interest in surgical procedures. Given this background, his specialties are preventive, cosmetic, and restorative treatments — especially dentures! Dr. Plaisance currently practices at deJong & Plaisance Family Dentistry and is reachable on his website and by phone at (504)-738-5171.