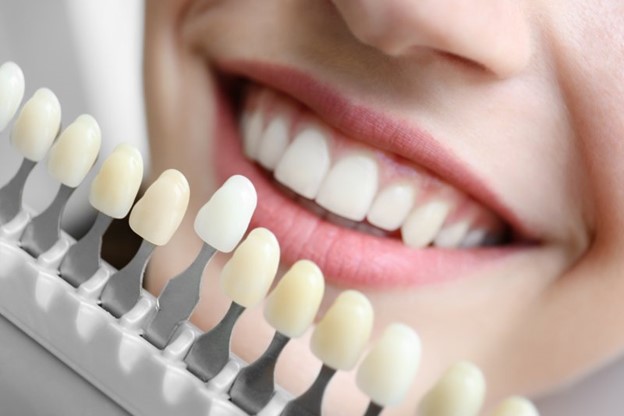 If you're self-conscious about the appearance of your smile and ready for a solution that can provide incredible results, porcelain veneers might be the answer you're looking for. They can correct all sorts of minor aesthetic issues and flaws and are certain to improve the look and feel of your smile. Keep reading to learn more about five of the best benefits that porcelain veneers have to offer!
1. Quick & Simple Cosmetic Fix
Porcelain veneers will improve and brighten your smile instantly! Your dentist will bond thin sheets of dental-porcelain to the front surfaces of your teeth, immediately giving them an improved appearance. They're custom-made for each patient to create the most attractive smile possible and are an excellent option for treating things like minor chips and cracks, stains, gaps between teeth and more.
2. Natural in Appearance
Your veneers are able to perfectly match your natural teeth thanks to the efforts made by your dentist. Before receiving your veneers, your dentist will take impressions of your teeth that are sent to the lab where your veneers will be manufactured. Once they're ready, your dentist will measure and sculpt each one to ensure that they fit nicely and naturally inside your mouth.
3. Minimally Invasive
Compared to other procedures, receiving porcelain veneers is minimally invasive and usually requires little to no anesthesia. Your dentist will have to remove a small amount of enamel from the front surface of your teeth (about half a millimeter), but this is a much smaller amount than what is removed for something like a dental crown. After the surface of the tooth has been shaved down, each veneer is bonded and adjusted as needed.
4. Permanent & Durable
Porcelain veneers are crafted from a special medical-grade material that is much more resistant to stains and tooth decay than your natural teeth. Since the veneers are non-porous unlike your natural tooth enamel, which is porous, they're able to remain shiny and resilient for the long run (10 – 15 years). That is, assuming you practice regular oral hygiene—neglecting them will compromise their longevity!
5. Maintenance Is Easy
Fortunately, porcelain veneers are quite easy to maintain and do not require any specialized care at all. You simply need to brush, floss, and care for them as you would your natural teeth. That said, it always helps to visit your dentist biannually for checkups and cleanings—they can ensure your veneers are fully functional and beautiful.
Porcelain veneers have completely revolutionized cosmetic dental care and given many patients access to a beautiful and healthy smile. Talk with your dentist to see if veneers are a viable treatment option for you; the benefits are plentiful and you're certain to be satisfied with your results.
About the Author
A Louisiana native himself, Dr. Kerry T. Plaisance, Jr. is proud to serve patients and families in the River Ridge area! Dr. Plaisance received his dental doctorate from Louisiana State University and has since studied with some of the most prestigious organizations in the country including both SPEAR and the Dawson Center. He is also a member of the Academy of General Dentistry. His practice is pleased to offer several available services, including porcelain veneers! To schedule a visit, feel free to contact the practice online or give them a call at (504) 738-5171.