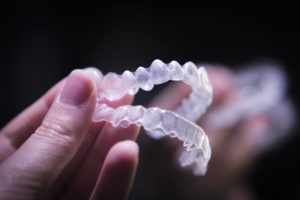 As you've gotten older, you see family members and friends' children get braces and it reminds you of your own teeth. Growing up, your parents might not have chosen to get you braces and as a result, you're stuck with crooked teeth. You don't have to settle for crooked teeth or braces anymore as an adult thanks to the solution clear retainers provide. In fact, the market has developed so much you now have multiple options; the biggest ones include Invisalign and ClearCorrect. If you're considering clear retainers at your next dental visit, let your local dentist share the differences before you buy.
ClearCorrect's Retainers Are Made at Home, But Still Cheaper
Unlike Invisalign's retainers which are commonly produced in countries like Costa Rica and Pakistan, ClearCorrect's retainers are made in America, which supports American manufacturers and developers. One would expect the foreign clear retainer to be cheaper by default since they are shipped over, but ClearCorrect charges a third of the price for retainers (sometimes even less) than Invisalign. This allows your dentist to pass the added savings over to you.
ClearCorrect's Retainers: Thinner, Clearer, and More Accommodating
When Invisalign creates its trays for its clients, they send all of them back to the patient at once. This causes the trays to not fit as well and cause more discomfort as patients wear them over time. Since ClearCorrect only fabricates a few trays at a time, they're designed to fit the shape of your teeth better, making it a more comfortable transformative experience.
According to reports from patients, ClearCorrect's retainers have also shown to be thinner and clearer than Invisalign's. Ideally, you don't want the retainers to be noticeable, so this bonus will help you commit to wearing them every day.
ClearCorrect Knows How to Treat Its Customers
If you're having issues with your retainers, you'll want to have access to someone who can help as soon as possible. According to customer reports, Invisalign's customer service has been widely regarded as poor, making it more difficult for patients to get their issues resolved. However, ClearCorrect has reported consistently high customer service ratings. If an emergency related to your retainers occurs, ClearCorrect offers an option for live chat during normal business hours, as well as standard email and phone contacts for several different countries.
Don't make the wrong choice for reshaping your smile. Consider ClearCorrect as your next clear retainer today!
About the Author
Dr. Kerry T. Plaisance Jr. DDS, a New Orleans native, has been serving the community for over 13 years now. He earned his undergraduate degree and Doctor of Dental Surgery at Louisiana State University. He was also named the Top Dentist by New Orleans Magazine for 10 consecutive years. More than anything, he enjoys getting to know and care for the New Orleans community and serves as a member of several dental associations. To learn more about his practice and ClearCorrect retainers, visit his website here or contact him at (504) 738-5171.