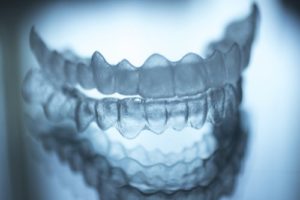 Do you have crooked teeth? You may be thinking about heading to your local dental care provider to talk about how you can achieve a straighter smile. You have lots of options in front of you, including choices that are free from the metal brackets and wires of traditional braces. Many people favor clear braces because they are convenient, nearly invisible, and very effective. But which type of clear braces are right for you? Both ClearCorrect and Invisalign offer numerous advantages. Here is a quick comparison of the two:
Effectiveness
Both ClearCorrect and Invisalign are great options for correcting a range of orthodontic problems. They can fix:
Crowded teeth
Overbite
Underbite
Gaps between teeth
Crooked or rotated teeth
Your dental care provider will assess your unique situation and make a recommendation for treatment. However, because ClearCorrect and Invisalign offer similar results, the ultimate decision may be up to you.
The Process
Both ClearCorrect and Invisalign provide a series of clear aligners to patients. However, the overall process is slightly different. Invisalign provides all the aligners at once; you switch to a new one every two weeks or so, and eventually your teeth settle into their correct positions.
With ClearCorrect, you get only a few aligners at a time. This is a significant advantage each new set of aligners will be more comfortable than if you were using ones that were created at the beginning of your treatment.
Price
A straighter smile is always worth the investment, but that doesn't mean you shouldn't carefully consider the cost of your smile makeover. ClearCorrect is generally more affordable than Invisalign; the company charges dentists less, which means that dentists can charge their patients less.
The exact price of your treatment will depend on how much work your smile needs, but this is something that you can talk about with your dentist during your initial consultation.
Appearance
One of the main draws of clear braces is that they're difficult for other people to notice, but that doesn't mean that Invisalign and ClearCorrect look the same. Many users of ClearCorrect have reported that the aligner trays are thinner and less invisible than those that Invisalign provides.
The Companies
While both ClearCorrect and Invisalign are proud to help people achieve gorgeous smiles, they offer different levels of customer service. Some dentists have complained about Invisalign's service, while they're generally happy with how ClearCorrect treats them.
Another thing to consider is where the companies manufacture their products. ClearCorrect braces are all made in the United States, whereas Invisalign is a global company that creates their aligners in Costa Rica and Pakistan.
Which type of clear braces are right for you? Your dentist is likely to recommend ClearCorrect because it is effective, comfortable, and affordable.
About deJong and Plaisance Family Dentistry
Drs. Kerry Plaisance and Keith deJong are proud to provide a range of dental services to folks in New Orleans. If you're thinking about straightening out your smile with clear braces, contact our office at  504-738-5171 to learn more about ClearCorrect.