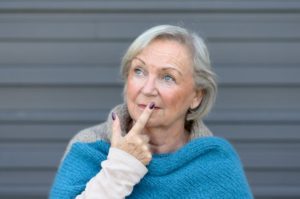 Did you know that 47.2 percent of American adults over the age of 30 have periodontitis? That number jumps up to 70 percent in adults over 65. Undoubtedly, this disease is common, but did you also know that it can affect your health in other ways? It's true. Gum disease has been associated with heart disease, diabetes, and kidney disease, just to name a few. But most recently, a collection of research suggests that gum disease could contribute to Alzheimer's. Learn more about these diseases and how they are related through this post from your dentist in Kenner.
What is Alzheimer's?
As the most common type of dementia, Alzheimer's causes problems with memory, thinking, and behavior. Its symptoms typically develop slowly over time and get progressively worse until becoming severe enough that they interfere with daily life. Although it is not considered an "old age" disease, it most often occurs in patients over 65. In 2018, the US National Institutes of Health spent $1.9 billion on research for Alzheimer's, and still there is no cure for it.
What is gum disease?
Gum disease is a chronic inflammatory condition in the gums. It is caused by the bacteria that live in plaque, the white, sticky substance that forms in the mouth. When plaque builds up in between teeth and along the gumline, they produce toxins that irritate the gums. This causes them to become red and swollen—the first stage of gum disease, or gingivitis. Over time, these toxins cause the gums to recede or pull away from the teeth, forming pockets of trapped plaque and bacteria, which is called periodontitis, the more advanced stage of gum disease. The infection then spreads to the jaw bone and tissue. If left untreated, gum disease eventually leads to tooth loss and permanent damage to the tissue and bone in the jaw.
How are these diseases related?
Although more research is needed to prove a definitive relationship, studies have shown some interesting findings. For instance, P. gingivalis, the bacteria responsible for gum disease, was found in the brains of people with Alzheimer's. Also, when a team of researchers infected mice with gum disease, it led to brain infection and damage to areas of the brain usually affected by Alzheimer's. Other studies have shown that patients with fewer teeth are more likely to have dementia.
There are several theories about how the bacteria from gum disease could find their way to the brain. When plaque builds to the point where pockets are forming in the inflamed gums, the bacteria can easily enter the bloodstream, taking them all over the body. These bacteria are efficient at invading white blood cells and could invade the cells lining blood vessels and cranial nerves near the mouth, reaching the brain over the period of years.
Again, more research is needed, but caring for our gums could have far more significant effects than we currently realize. If the connection between gum disease and Alzheimer's becomes clearer with more research, we may find more efficient and effective ways to treat and prevent Alzheimer's. Oral health is important on its own, but we now may have even more reason to take care of our smiles in the long term.
About the Practice
At deJong and Plaisance Family Dentistry, Dr. Kerry Plaisance and Dr. W. Keith deJong have decades of dental experience treating families in the River Ridge, Metairie, and Kenner areas. They can easily treat and help prevent gum disease, helping the patient in their overall well-being in addition to their oral health. To schedule an appointment with them, you can call or click here.