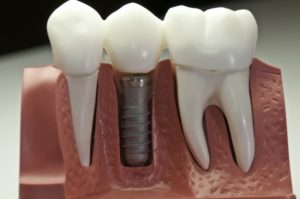 If you're suffering from missing teeth, dental implants in Kenner can be a great solution for restoring your smile. Unfortunately, like any medical procedure, there can be complications with your new tooth; it's important to understand the risk factors for failure and what to look out for. Here's what you need to know in order to protect your dental implants.
How Can a Dental Implant Fail?
Dental implants work by joining naturally with the jaw through osseointegration in order to provide better stability for a replacement tooth; this also lets them provide the stimulation from chewing required to keep the jawbone strong. If osseointegration doesn't occur correctly, the implant will fail; this can be the result of insufficient bone or micro-movements during the process.
Other possible causes of implant failure include:
An infection at the implant site
An allergic reaction to the titanium post
Damaged nerves or tissue
An implant that intrudes into the sinus cavity
Damage caused by physical injury or teeth grinding
Not following the dentist's instructions
How Can I Tell if My Implant is Failing?
Oftentimes, failure will cause your implant to become loose. It may move around inside your mouth, or it may even come out entirely; obviously, both are reasons to see your dentist in Kenner as soon as possible. Dental implant can also lead to:
Difficulty chewing
Inflamed or receding gums
Swelling around the implant
Severe pain
If you experience any of these symptoms, make a dental appointment right away.
Can Dental Implant Failure Be Avoided?
Good oral health is the key to successful dental implant treatments. Continue brushing and flossing regularly; remember to use a non-abrasive toothpaste to avoid damaging the replacement tooth. You'll need to stop smoking before and after treatment, as it can disrupt the healing process; also, if you grind your teeth at night, ask about getting a nightguard.
You can encourage osseointegration by eating more foods that promote strong bones. Eat plenty of dairy products (cheese, milk, yogurt) as well as other calcium-rich foods such sardines. However, avoid biting down on hard foods such as ice or certain kinds of candy, as this can damage the implant (as well as your natural teeth).
Remember that dental implants have a high success rate, but there are many factors that can lead to failure; some patients, such as those who have already suffered too much bone loss or are currently suffering from gum disease, may not be good candidates. Speak with your dentist about the current state of your oral health. They'll help you devise the best plan for restoring your smile while keeping the rest of your mouth happy and healthy!
About the Practice
At deJong and Plaisance Family Dentistry, Drs. Kerry T. Plaisance and W. Keith deJong help their patients feel as comfortable as possible while providing prompt, efficient treatment. They offer dental implants as a solution for incomplete smiles; in some cases, they can use implants to support dentures. To schedule an appointment, visit their website or call (504) 738-5171.