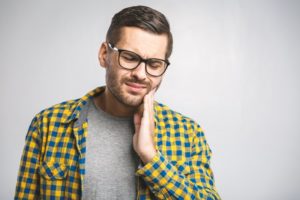 The wintertime can bring many yummy seasonal treats, and none are more satisfying than a hot cup of coffee on a cold day. But have you ever reached for your favorite drink only to be rudely surprised by discomfort and sensitivity in your teeth? The same scenario can occur with really cold or really hot foods. So why does this happen, and can it be fixed? Keep reading to discover the causes and solutions of tooth sensitivity from your dentist in Kenner.
Acidic Diet
If you have tooth sensitivity, it could be due to an acidic diet. Tooth enamel naturally wears down as you grow older, but it can also be worn down by other factors like acidic foods. Once your enamel is stripped away, the more sensitive inside of your tooth is exposed. That's why you may feel pain or discomfort when eating hot or cold foods.
The Solution
Avoid highly acidic foods like fruit juice, vinegar, tomato juice, oranges, and more. Instead, eat calcium rich foods like low-fat dairy and nuts. You should also visit your dentist twice a year to make sure your teeth are in the best health possible.
Teeth Grinding
Grinding your teeth, also called bruxism, can wear down your enamel and cause tooth sensitivity. This grinding usually happens at night, and it can occur because of stress, sleep disorders, and more.
The Solution
The best treatment for you will depend on your specific grinding habit, but your dentist can provide custom-fitted mouthguards to protect your teeth while you count sheep. Orthodontics and restorative dentistry like crowns can sometimes help with grinding, but the best way to find the right solution is to see your local dentist.
Gum Disease
Gum disease is an infection that inflames and attacks the supportive tissues of your teeth. It's usually caused by poor oral hygiene, and when the bacteria eat away at your gum tissue, it can cause recession. When your gums recede, it exposes parts of the tooth that are usually protected, which can cause sensitivity.
The Solution
The first step you should take is a visit to your dentist to get your gum disease treated. After that, you should practice good oral healthcare to prevent reoccurrence of gum inflammation.
Tooth Decay
Plaque buildup combined with bacteria can cause tooth decay and cavities that damage your tooth enamel. Because decay weakens your enamel, it causes the inside part of your tooth to be exposed. That's why sensitivity is often the first sign of having a cavity.
The Solution
Mild to moderate decay can usually be treated with fillings to seal and protect the decayed part of your tooth. Be sure to visit your dentist twice a year to minimize your chances of decay and sensitivity.
Now that you know some of the causes and solutions of tooth sensitivity, use the above tips to enjoy all of your favorite hot and cold foods.
About the Practice
Dr. W. Keith deJong and Dr. Kerry T. Plaisance are both Louisiana natives who love caring for patients in their community. They take pride in helping their patients feel healthy and comfortable, which is why they are happy to provide recommendations on how to get rid of your tooth sensitivity. They currently run their own practice, and they can be contacted through their website or by phone at (504) 738-5171 for any questions.