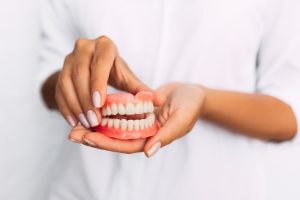 The American College of Prosthodontists reports that 23 million Americans don't have any teeth left. Although teeth are supposed to last for a lifetime, that doesn't happen for many people. Tooth loss is often associated with the elderly, but it can occur at any age. Whether you're in your 20s, 30s, or 40s, you don't have to wait until you retire to replace your missing teeth. Dentures aren't just for seniors. Here's why young adults are choosing to invest in a complete smile.
Complications of Untreated Tooth Loss
Lost teeth are more than an aesthetic problem. Every tooth is invaluable to your oral health, quality of life, and general wellness. Losing even one tooth can have serious consequences, but missing several or all of your teeth can have devastating effects.
Losing a tooth causes your jawbone to shrink by 25% within the first year because it's not being stimulated by the roots of your teeth. It will continue to deteriorate as time passes, increasing your risk of additional missing teeth. 
As you lose more teeth and bone, your facial structure will change, making you look years older than your true age. Your speech can be slurred and you might struggle to eat certain foods, like meat. You may also have to eliminate some foods from your diet, which can lead to nutritional deficiencies that can affect your health.
There's No Age Requirement for Dentures
Although society attributes dentures to being older, there's no age requirement to replace your lost teeth with them. In fact, the sooner you fill the gaps in your smile, the better. 
You'll restore your dental health and oral functions to support a healthy mouth and body. You'll benefit from results that look and feel natural, so no one will know your new teeth aren't real.
Options to Treat Missing Teeth
You have more options than ever before to treat tooth loss. Depending on the number of teeth you're missing, you may be a candidate for:
Partial Denture: A partial denture can treat consecutive and non-consecutive tooth loss. Prosthetics are set in a gum-colored base that has a metal framework, allowing it to clip or clasp onto any remaining teeth to stay in place.
Full Denture: A full denture replaces an entire arch of missing teeth. It rests on top of your gum tissue and is held in place using suction.
Dental Implant: A dental implant replaces the entire tooth structure, including the root. A dental implant can replace a single tooth, or several posts can be inserted into your jawbone to support a bridge or denture.
You can take 10 years off your appearance by replacing your lost teeth. Age is just a number when it comes to investing in a complete, beautiful smile.
About Dr. Reese Bostick
Dr. Bostick studied at LSU and has regularly continued his education to provide up-to-date dental care. He strives to provide personalized solutions to help each patient achieve their best smile. If you're ready to replace your missing teeth, contact his office at (504) 264-6555 to schedule your consultation.