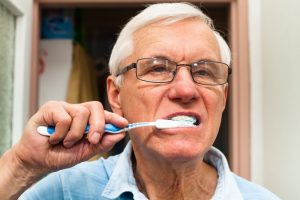 If you have a severely damaged or missing tooth, you may choose to have a dental crown placed to restore your functionality and smile aesthetics. Once your oral health is back to normal, the last thing you want is to compromise it. Maintaining excellent dental care habits will play a significant role in your dental crown lifespan in River Ridge. Here's how to see the maximum benefits.
How Long Does a Dental Crown Last?
Dental crowns are custom crafted from the highest quality ceramics. Because of their careful design and fabrication, they typically can last up to 10 years. Ultimately, a crown's longevity is dependent on how well you take care of your mouth, teeth and gums. In some cases, excellent dental care can result in a crown lasting for decades.
Extending the Life of Your Dental Crown
It doesn't take an elaborate effort to ensure your crown lasts longer. Here are some simple tips to take note of:
Avoid biting your fingernails and chewing on hard candy or ice. This can damage both a crown and natural teeth.
Practice excellent oral hygiene, which should include brushing and flossing at least two times a day to keep oral bacteria at bay.
Maintain semi-annual dental visits for cleanings and checkups. Therefore, harmful plaque and tartar can be removed, and the dentist can identify any budding issues.
Avoid grinding and clenching your teeth, as the unnatural pressure can cause a replacement crown to crack, chip or dislodge.
If you suffer from bruxism (teeth grinding), it's imperative to seek treatment before it causes your crown to fail. Your dentist may suggest designing a custom mouthguard to be worn while you sleep, since that's when most teeth grinding occurs. As stress is one of the main contributors to bruxism, you may consider relaxation techniques, a new exercise regimen and counseling as supplemental tools.
Warning Signs That Your Dental Crown Needs Replacement
A failed dental crown is nothing to take lightly, as it can leave your tooth exposed to harmful bacteria. You should especially pay attention to the area around the base of the crown. Look for any black lines or discoloration. If you notice either, you should contact your dentist in River Ridge. Another indicator is pain when you bite or chew food. This could be a warning sign that bacteria have seeped beneath the crown into the sensitive parts of the tooth.
The good news is that you have the power to mitigate these potential issues. The more vigilant you are in maintaining your dental crown and paying attention to any changes, the better and brighter your oral health future will be!
About the Author
Dr. Kerry T. Plaisance earned his dental degree from Louisiana State University. Not one to rest on his laurels, he has received postgraduate training from SPEAR Education and the Frank Dawson Center. A member of the Academy of General Dentistry with over 16 years of experience in the dental world, Dr. Plaisance restores his patients' smiles by placing dental crowns at DeJong & Plaisance Family Dentistry, and he can be reached for more information or to schedule a visit through his website.