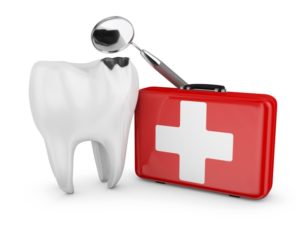 One second, life is going along just fine. The next, you're taken off guard by a dental emergency. Maybe your child fell of their bike and hit their mouth. Maybe you feel an excruciating toothache that won't go away. Dental emergencies can be painful, stressful, and even downright scary, especially if they occur while you're away from home. To prepare for this possibility, here is some helpful information about handling dental emergencies while you're out and about from your emergency dentist in Kenner.
What qualifies as a dental emergency?
Here is a list of some common dental emergencies:
Object stuck between teeth.
Lost crown or filling, especially if accompanied by pain.
Partially dislodged tooth.
Broken or fractured tooth.
Fully dislodged tooth.
Soft tissue injury.
Jaw injury.
Oral bleeding.
Painful toothache.
What should I do in a dental emergency?
First and foremost, you need to stay calm. If the injuries are severe, you have broken bones, or bleeding continues even with pressure, go to the nearest emergency room. If not, call your emergency dentist in Kenner for the next available appointment. While waiting to see the dentist, you need to take the right actions to help you save your natural tooth or avoid the need for more extensive treatment. Here are some tips for what to do in these situations.
If bleeding, apply pressure with gauze or a clean cloth.
If your permanent tooth has been completely knocked out, try to insert the tooth back into the socket without touching the root. If that's not possible, store the tooth either in milk or in between your gums and cheek. It is important that the root stays moist and clean.
Take over-the-counter pain medication to manage your toothache or pain.
Use a cold compress on your face to help with the pain as well.
For toothaches, cracked teeth, or missing crowns or fillings, rinse your mouth with warm water to clean your mouth and the affected tooth.
For toothaches, gently floss around the affected tooth to make sure nothing is stuck between your teeth.
If your crown has fallen out, you can either use dental cement or adhesive to reattach it, or you can apply dental cement directly to your tooth to form a seal around your exposed tooth.
Until you can see your dentist, leave your partially dislodged tooth as it is and avoid touching the root. Your dentist will be able to reset it correctly.
What is a dental emergency kit, and why should I have one?
A dental emergency kit is very similar to a first-aid kit, but it is specifically for dental emergencies. You should already have a first-aid kit in your car, which is useful, but you can also consider having a dental emergency kit in there as well, just in case you experience an emergency away from home. Here are some items that should be in a dental kit:
Gauze.
Pain reliever.
Cold compress.
Dental mirror.
Gloves.
A small container (to store a tooth).
You can't plan how and when a dental emergency will happen, but you can plan how you will respond when it does. As jarring as it can be to experience, you don't have to be frightened when a dental emergency strikes. No matter where you are, you can do your best to be prepared and mitigate the situation until you are able to get to the dentist's office.
About the Practice
deJong & Plaisance Family Dentistry serves patients in the River Ridge, Metairie, and Kenner areas and provides family, cosmetic, restorative, and emergency dental services. With over 30 and 13 years of experience respectively, Dr. W. Keith deJong and Dr. Kerry Plaisance use their expertise to provide compassionate, effective care to their patients. To schedule an appointment, you can call (504) 738-5171 or click here.