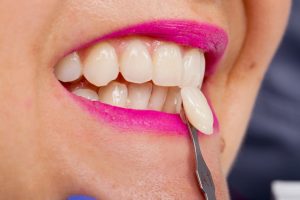 If you're ready to invest in the confident, beautiful smile you deserve, veneers are a great option because they can correct several issues at once. You can have the drastic results you want using a minimally invasive procedure. While you're excited to begin the transformation process, you might not have expected to need temporary veneers. Although you'll only need them for a couple of weeks, they are an important step in your journey to a flawless smile.
What are Temporary Veneers?
A veneer is a thin shell that's bonded to the front surface of a tooth. Temporary ones work the same as your final restorations; however, there are some differences. They are made of different materials and serve separate purposes throughout your treatment.
The process of getting veneers begins with your dentist cleaning your teeth and removing a small amount of enamel. This is necessary to ensure your veneers sit flush, but it will thin the hard protective layer of your tooth. As a result, you'll need temporary veneers to cover your teeth while the dental lab carefully crafts your permanent ones. Since they are made to meet your exact specifications, it can take a couple of weeks. During that time, your teeth will have the protection of temporary veneers, which will be removed after your permanent restorations are sent back to the dental office.
Why are Temporary Veneers Necessary?
Temporary veneers have several purposes and are an important part of your treatment plan. Although you may not have expected to need them, here are a few reasons why they are beneficial:
Try-On Your Smile: You wouldn't buy a new outfit without trying it on, so you shouldn't have to do the same with your new smile. Temporary veneers allow you to see the results you can expect to feel confident in the decision you're making.
Protect Your Teeth: Although etching doesn't damage your teeth, it will leave them vulnerable to sensitivity and decay. As a result, they will always need to be covered by temporary veneers, permanent veneers, or dental crowns. Temporary veneers will give them the protection they need using a simple, effective solution.
Better Results: Your dentist can ensure your veneers meet your exact specifications before creating your final restorations, such as if they are too long or short. They can make the necessary adjustments to ensure your final veneers are perfect.
Achieve an Attractive Smile
It may take a few days to adjust to wearing your temporary veneers, and you'll need to avoid hard and sticky foods. In no time at all, they will closely feel like your real teeth while waiting for your new smile to be ready.
About Dr. Kerry T. Plaisance, Jr.
Dr. Plaisance has been creating healthy, beautiful smiles for over 16 years. He earned his dental degree from Louisiana State University and continued his training at Spear and the Dawson Center. Named Top Dentist in New Orleans Magazine for over a decade, you can feel confident your smile is in good hands. Contact our office today to schedule your consultation for veneers.